If you ever travel to Bhutan, a word of advice: don't ask Bhutanese what they think about Gross National Happiness (GNH). Don't ask them about the four pillars, the nine dimensions or how many tools and indicators exist. For most Bhutanese, GNH isn't a structured concept they refer to. Instead, they simply "live it", since this development philosophy is deeply rooted in Buddhist beliefs, traditions and rituals that shape and guide the rhythm of Bhutan's daily life.
You may, however, ask them about the four auspicious animals that adorn the walls of numerous houses in Bhutan. Three of these animals are mystical creatures and only one is real. These animals represent the qualities and attitudes one has to develop on the path to enlightenment: confidence & mindfulness (Tiger); curiosity & attentiveness (Snow Lion); understanding & fearlessness (Garuda); and gentle power (Dragon).
These qualities and attitudes suggest ways of being and acting in the world. They also represent the four stages of personal development, encouraging us to progressively reconnect to self, to others, and to the environment (soil, soul, and society) in a time when everything tries to distract us from those very things.
"When we get too caught up in the busyness of the world, we lose connection with one another – and ourselves."

– Jack Kornfield
---
First stage: Reconnecting with oneself
Being mindful, like the tiger, who walks confidently through the jungle, observing carefully whatever happens around him. Practicing openness – and simply paying attention to whatever is happening – without anticipation and judgment. Getting out of our "automatic mode" and acting consciously.
"The best way to capture moments is to pay attention. This is how we cultivate mindfulness."

– Jon Kabat-Zinn
This first stage is about:
Moving from an automatic to an intentional mode
Gaining intention and precision in all what we do
Replying instead of reacting – and creating proactive choices
Managing stress, anxiety and distraction
Attention – Attention – Attention
---
Second Stage: Reconnecting with others and the environment
Being genuinely curious about others and the environment, like the snow lion (emblem of Tibet), jumping from one mountain peak to another in the Himalayas, exploring the world, nature, elements, and others. Being open and eager to learn about other ways of doing things.

"The real voyage of discovery consists not in seeing new sights, but in looking with new eyes."

– Pico Iyer

This second stage is about:
Moving from an intentional to an exploration mode
Mobilizing all senses – expanding the awareness to our environment
Reaching out, and establishing meaningful relationships
Not missing out any opportunities, and looking for new possibilities
Connection – Connection – Connection
---
Third stage: Reconnecting with empathy and creativity
Ascending to new heights, like the Garuda, or Tibetan Eagle, high in thesky. Being willing to expand one's horizon in order to gain new perspectives and profound understanding, which enables us to come up with innovative solutions.
"In any art form we seek the experience of going beyond what we already know."

– Viola Spolin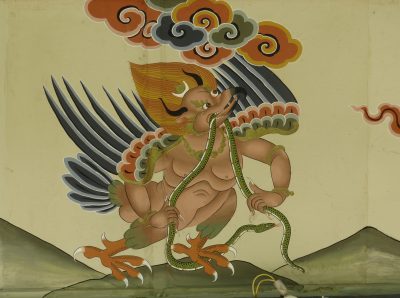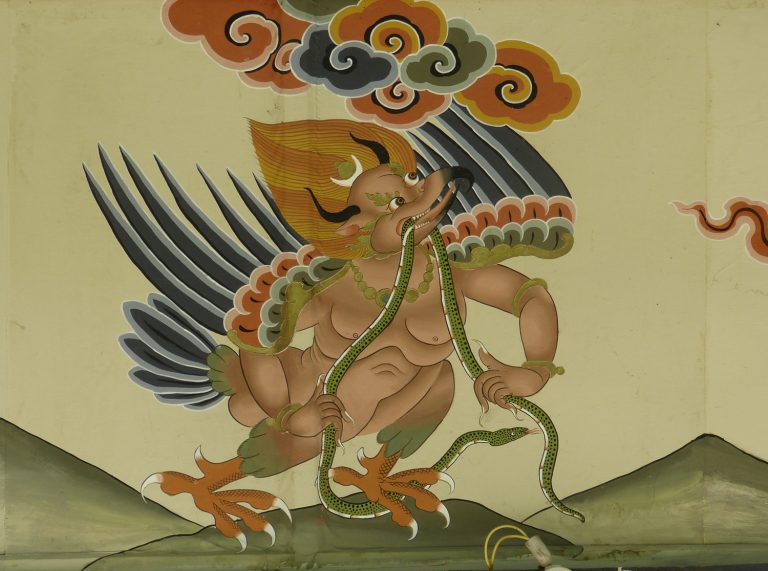 This third stage is about:
Moving from an exploratory to a creative mode
Acting out of a complete (not partial) understanding of a situation
Being willing to take risks – and not being scared about making mistakes
Being flexible and creative in unexpected situations
Courage – Courage –Courage
---
Fourth stage: Reconnecting with our inner wisdom
Built on the first three stages, assuming responsibility and setting an example. Creating an environment based on sincerity and authenticity. Communicating in an inspiring and engaging way.
"The art of communication is the language of leadership."

– James Hunt


This ultimate, fourth stage is about:
Moving from a creative to a leading mode
Acting with sincerity and authenticity and being exemplary
Communicating with perspicacity
Accepting, navigating, and leading through change
Communication – Communication – Communication
These four stages of personal development cover the four GNH Pillars, as the four auspicious animals actually inspired the four pillars approach. Tiger (Tak) – Environmental Conservation; Snow Lion (Seng) – Preservation and Promotion of Culture; Garuda (Chung) – Sustainable and Equitable Socio-Economic Development; Dragon (Druk) – Good Governance.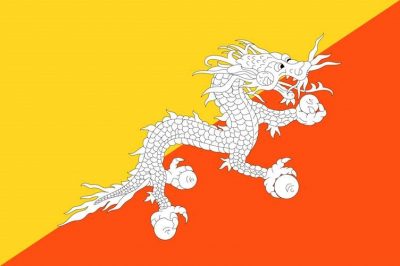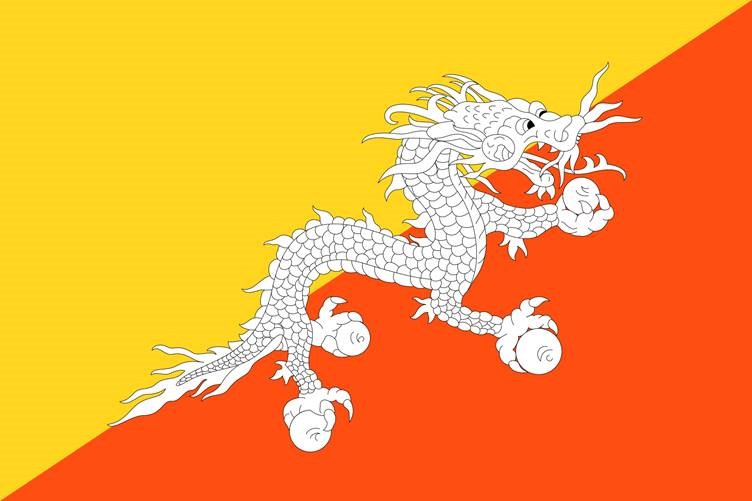 Speaking of the Dragon (Druk in the local Dzongkha language), the King of Bhutan is called Druk Gyalpo, the "Dragon King". The Bhutanese people call themselves the Drukpa, the "Dragon people," and Bhutan is also known as Drukyul, which translates as "The Land of the Thunder Dragon." The flag of Bhutan features the Thunder Dragon.




---
* Jack Kornfield (born 1945), American author and Vipassana meditation teacher
* Jon Kabat-Zinn (born 1944), American professor emeritus of medicine and creator of the stress reduction program MBSR (mindfulness-based stress reduction)
* Pico Iyer (Siddharth Pico Raghavan Iyer, born 1957), British-born American travel writer, author of "The Art of Stillness : Adventures in Going Nowhere"
* Viola Spolin (1906 — 1994), American theatre academic, educator and acting coach, recognized for having created techniques to help actors to be focused in the present moment and to find choices improvisationally, as if in real life
* James (Jerry) G. Hunt (1932 — 2008), American professor of Management, founding director of Texas Tech University's Institute for Leadership Research