Developing our intercultural competence
Understanding the culture-specific values and demands of international markets, customers, clients, and colleagues has become a necessary key standard for business executives working in international settings.
Therefore, developing one's intercultural competence is essential. Intercultural competence can be defined as a set of abilities needed to communicate and interact effectively and appropriately in intercultural situations. Its development is a lifelong process that takes motivation, time, and effort. Moreover, international experience alone isn't enough. Rather, what is needed is constant and intense reflection upon our international experience, as well as one's own culture.
Assume nothing and look for positive intentions instead
It was a sunny and hot Saturday. My translator Malik and I arrived in Nasiriyah, a city in southeast Iraq, 10 minutes before our meeting with the Governor of the Dhi Qar Governorate scheduled for 9:00. We waited as the minutes ticked past: 9:00, 9:15, 09:30, 10:00, 10:30…At last, the Governor showed up at 11:00. I expected him to greet me and apologize for keeping me waiting. Instead, he chitchatted with a group of 12 men who were also waiting for him. It was 11:30 when we finally were invited to join the Governor in the meeting room. To my surprise, the group of 12 men was also there. Picture the scene: myself, the only woman sitting in a big circle of men.
The Governor asked for coffee to be served. A boy arrived with a beautifully ornamented dallah (traditional Arabic coffee pot) and poured qahwa (Arabic coffee) into small white cups. So far, so good, except that there wasn't any coffee. Not a single drop! In spite of the circumstances, we all pretended to drink coffee. I assumed that this was a way to show me that I wasn't welcome as a woman, so I then considered leaving the room. However, Malik looked over to me and whispered, "Stay where you are, and keep on smiling" (to be continued …).
Working in a global world
To work in a global world means sometimes being exposed to very different ways of doing things. Different ways that we sometimes struggle to understand, and may consider as "abnormal," "inappropriate," and "rude." Conversely, we may not necessarily realize that our own way of doing things might also be perceived as abnormal and inappropriate to others.
A great rule for working in a global world is to first not take anything personally.
Then, try to look for the positive intention behind the behaviors of the people you are working with, since there is probably a good reason why they act the way they do.
Next, consciously develop your intercultural competence, as this will help you become more successful, flexible, agile, and creative in your interactions with others.
"To understand everything is to forgive everything."


– Madame de Staël
As in most Arab societies, serving coffee is an important aspect of hospitality in Iraq. It is considered an essential ceremonial act of generosity. In return, the guest is expected to drink at least one cup as a symbol of accepting hospitality.
The meeting with the Governor took place while Iraq was under embargo and coffee was therefore unavailable. Being considered a VIP by the Governor, serving me tea or any other drink besides coffee would have been deemed disrespectful. As such, it was much more courteous to perform this act of hospitality, even though they didn't have any coffee to offer.
Learning about oneself by learning about others
Six months after this "coffee ceremony," I was back in Iraq and pleased to work with Malik again. While driving through Nasiriyah on our way to Basra, Malik suggested we stop by the Governor's house to have some coffee.
From my Swiss perspective, one always schedules meetings ahead of time and does not show up unannounced, especially with important people.
After much discussion, I gave in. We stopped at the Governor's house, but were told that he was busy holding a meeting with 60 community elders.
From my Swiss perspective, if I show up unannounced and the person is busy, I ask to leave a message that we have stopped by and then take my leave.
The Governor's assistant insisted that we should wait while he informed the Governor about our spontaneous visit. Ten minutes later, the assistant came back with the Governor, who spent 15 minutes chitchatting with us.
So, what had changed between the first meeting, when the Governor kept me waiting for more than 2 hours, and this second encounter, where he left an important meeting to meet with me?
The difference was that we had had coffee together, thereby initiating a professional relationship that hadn't existed prior to the first meeting.
"Every time I take a trip, the experience acquires meaning and grows deeper only after I get back home and, sitting still, begin to convert the sights I've seen into lasting insights."

– Pico Iyer
Your preference? Questions for you, as a reader:
Would you keep me waiting 2 hours if we had agreed on a fixed time for a first meeting? Would you receive me for 15 minutes if I'd show up unannounced and were busy in an important meeting? There isn't a right or wrong answer.
We simply act based on different assumptions and sets of values.
In Switzerland, we generally live by the clock. Keeping schedules is seen as socially responsible. However, plans in Iraq tend to be more fluid, so attending to human interaction is generally considered as socially responsible.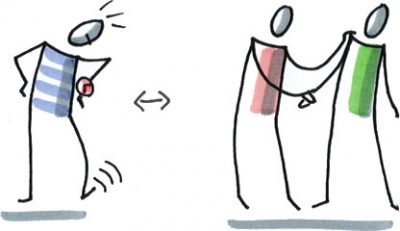 One of the most enriching aspects of my profession is working with clients or trainees from across the world and from a wide range of cultures in Switzerland. Not one day goes by without me both learning something new about myself and deepening my understanding about other cultures (and the underlying reasons for their behaviors). As a result, I realize how enriching and creative multiple perspectives can be.

→ Developing intercultural competence is relevant for anyone working in a multicultural environment, either at home or abroad. It is also important if you work as part of a multicultural team, lead a global team, work with international customers or suppliers, or travel overseas on business.
---
* Pico Iyer (Siddharth Pico Raghavan Iyer, born 1957), British-born American travel writer, author of "The Art of Stillness : Adventures in Going Nowhere"
* Madame de Staël (Anne Louise Germaine de Staël-Holstein, 1766 – 1817), French woman of letters